Duane Morris Welcomes Trial and Gaming Law Partner Bill Gantz
March 9, 2020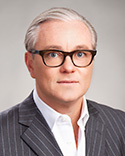 Bill Gantz
BOSTON and CHICAGO, March 9, 2020—Duane Morris LLP announced today that Bill Gantz has joined as a partner in its Trial Practice Group in the firm's Boston and Chicago offices. Prior to joining Duane Morris, Gantz was a partner at Dentons and co-chair of the Gaming Sector Practice there.
"Bill is a highly skilled lawyer with extensive trial experience, particularly in the gaming industry," said Matthew A. Taylor, CEO and Chairman of Duane Morris. "We're excited to add his skills and knowledge to our robust client offerings in the gaming sector, and his litigation skills will be valuable across the board in our Trial Practice Group."
"The addition of such a talented attorney as Bill will bolster our iGaming, esports and gaming practice in general, especially in Massachusetts, Rhode Island and Illinois where Bill practiced for many years and where he continues to have litigation and regulatory matters," said Frank A. DiGiacomo, Duane Morris gaming industry team lead. "Bill's practice will also complement our existing practice nicely with the addition of his gaming-centric intellectual property litigation experience," added Robert L. Ruben, Duane Morris gaming industry team lead.
"We're excited to welcome Bill to the office and to the firm," said Boston office managing partner Michael R. Gottfried. "His strong work ethic and character will be a great fit," added John Robert Weiss, managing partner of the Duane Morris Chicago office.
Bill Gantz commented, "The strength of Duane Morris' team across the board in transactional, regulatory and litigation matters for gaming industry clients fits perfectly with my expanding gaming practice. The firm also has an excellent culture and healthy workplace environment."
Gantz has nationwide experience representing manufacturing, gaming, technology and insurance clients in intellectual property and commercial litigation, including patent infringement, trade secret, consumer class action and appeals. Since 2002, he has represented internet and mobile gaming clients in patent infringement litigation and advised on state and federal gambling law. Gantz regularly provides counsel on intellectual property and regulatory compliance matters to startups and digital entertainment businesses offering iGaming, social gaming, pay-to-play or "freemium" games, fantasy sports, esports, sports betting, skill games, sweepstakes, retail product promotions and lottery tickets. His gaming clients include those utilizing cryptocurrency, blockchain technology, ICOs and tokens. Gantz regularly does pro bono work assisting charitable organizations with events or fundraising involving games, contests or raffles.
Gantz has extensive experience seeking temporary restraining orders and preliminary injunctions or defending against them, particularly in actions involving trade secret misappropriation, confidentiality agreements, covenants not to compete, the Defend Trade Secrets Act (DTSA) and Computer Fraud and Abuse Act (CFAA). He is highly experienced in shareholder rights litigation involving closely held corporations and limited liability companies, and has successfully tried cases for oppression, forced buyouts for fair value and dissolution, as well as shareholder derivative claims for breach of fiduciary duty and corporate waste. Gantz negotiates and drafts commercial agreements such as licensing agreements, website development and hosting agreements, asset purchase agreements, limited liability company equity transactions, distribution and sales representative agreements, nondisclosure agreements, and employment and separation agreements.
Gantz is a graduate of The Ohio State University Moritz College of Law (J.D., 1990) and the University of Chicago (B.A., 1987)
About Duane Morris
Duane Morris LLP provides innovative solutions to today's multifaceted legal and business challenges through the collegial and collaborative culture of its more than 800 attorneys in offices across the United States and internationally. The firm represents a broad array of clients, spanning all major practices and industries.